Gastight connections a must for CA-storage
Gas tightness is a must for all applications. The smallest opening in a storage room leads to undesirable costs while maintaining the atmospheric conditions in that space.
Besseling Group is known worldwide as the expert in the field of Controlled Atmosphere (CA) applications. The company manufactures CO2 adsorbers, nitrogen generators, ethylene converters and various other equipment to preserve fruits and vegetables to maximize storage duration. In addition, Besseling Group supplies solutions for disinfestation by oxygen reduction in high-bay warehouses.
Cables and tubes are an important source of leakages and should be lead through the wall or ceiling with proper cable- or tube connections. However, cable and tube comes in various sizes and can then also contract or expand due to temperature differences.
Our solutions consist of various types of gas- and watertight passages of cables, pipes and conduits through walls of, among other things, cooling rooms, CA/ULO rooms and climate chambers. But also foundations, high-bay cold stores, silos, processing rooms, and more.
Our product range:
Flanges
Besseling flanges are made of ABS material and provide a hermetic seal of pipes through the room wall at a 90° angle. We recommend one flange on the outside and one flange inside the room. The larger flanges have mounting holes.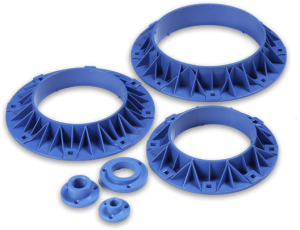 ■ 12 mm (also with 1/4" inner thread)
■ 19 mm (also with 1/2" inner thread)
■ 32 mm                    ■ 90 mm
■ 40 mm                    ■ 110 mm
■ 50 mm                    ■ 125 mm
■ 75 mm                    ■ 160 mm
Connector with EPDM plug
The gas tight PSI sealing system is ideal for single passages of pipes and tubes that shrink or expand, for example due to temperature differences. The transit consists of a PVC tube with two flanges and an EPDM plug made out of two identical, semi-circular rubber parts.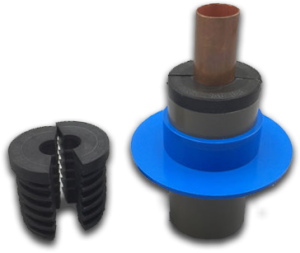 ■  10 to 29 mm – connector 50 mm – plug 43,6
■  22 to 50 mm – connector 75 mm – plug 68,6
■  32 to 74 mm  – connector 110 mm – plug 103,6
■  60 to 92 mm  – connector 125 mm – plug 118,6
■  90 to 125 mm – connector 160 mm – plug 152
Connector with cable gland
Cables for controlling equipment or sensors in a gas tight room can be led through the wall or ceiling via a connector with cable gland. This gas tight cable connector consists of a tube with flanges and an IPON cable gland that can be tightened. Standard length of the tube is 250 mm but on request different lengths can be delivered.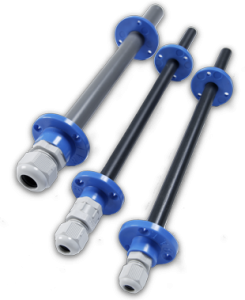 ■ 4 to 6 mm       – PG7
■ 5 to 8 mm       – PG9
■ 8 to 12 mm     – PG13,5
■ 9 to 14 mm     – PG16
■ 13 to 21 mm   – M32
Flexible connection pieces
With the flexible rubber sleeve/sock, two pieces of PVC tube can be connected in a gas- and watertight manner without the use of glue. An advantage is that vibrations, movements and shrinking/expansion of the tube can be absorbed. The sleeves/socks are supplied without clamps.
■ 50 mm
■ 75 mm
■ 90 mm
■ 110 mm
■ 125 mm
■ 160 mm
For more information, visit www.besseling-connectors.com or contact us:
☎ +31 229 212 154     ✉ sales@besseling-group.com